Outdoor Storage Shed With Floor
An outdoor storage shed with floor protects your outdoor equipment very well. Many of these sheds also tend to bigger which can be used as a playhouse, craft shed or man cave.
Here are some of the best
Keter Manor Shed
This is a nice big shed that already comes with floor panels. It looks like a small house with a wide double door in the front.
This plastic shed is built to last for many years and to withstand different weather conditions. This has a 7.6 cubic capacity which is more than enough to store not only a lawn mower but many other lawn equipment as well.
There's only one window but you can choose up to three different places to put the windows in.
Dimension: 89.4″ H x 73.1″ W x 93.2″ D
Lifetime Plastic Storage Shed
This is a cleverly designed outdoor storage shed with floor. It has some features that many of you are going to appreciate.
This is made of plastic but it also has reinforced steel beams and supports making it strong and durable.
The floor is made of high density plastic that is slip resistant – a nice little feature for your safety. Furthermore, this has 4 skylights, shatter proof window and 2 corner shelves — small features they may be but ones that many buyers do actually ask for.
This is available in 4 different sizes so you can choose exactly which one best fits the space that you have set for a garden storage. The following sizes are available:
8′ W x 5′ H
8′ W x 7.5′ H
8′ W x 10′ H
8′ W x 12.5′ H
8′ W x 15′ H
This shed which looks like a house is also designed in a way so that there is a lot of head room for anyone who goes in the shed.

Plastic Storage Shed Size: 8′ x 5′
Outdoor Living Today Cabana
If you're looking for a shed that will also primarily be used as a cabana for your outdoor pool, you'd love this one from Outdoor Living.
Available in two different sizes, this comes with windows, flower boxes and shelves. This is made with a combination of Western red cedar and mahogany construction. Two solid wood that perform very well and are resistant to decay, rotting and/or insects.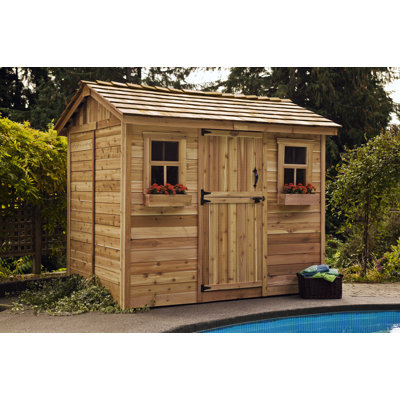 Cabana Wood Garden Shed Size: 9′ x 6′
If you want a storage shed that looks like a house, you're in luck as many of these sheds do come with a floor paneling as well. We have written about this before so go ahead and read it if you fancy these kinds of sheds.
Here's one that's highly rated and also comes with a floor kit. This is the Handy Home Premier Series Berkley Wood Storage Shed.
It's basically a shed that looks like a barn. It comes primed and you can paint to whatever color you like but it also comes with a floor kit panel. It's made of wood with two double doors that makes storage access very easy. Looks so good you can almost live in it.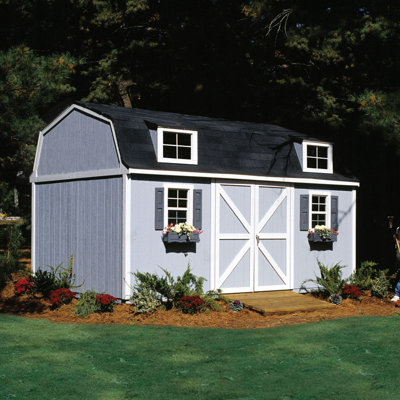 Premier Series Berkley Wood Storage Shed Size: 10′ x 18′ without Floor Kit
Note: Because many of these storage sheds are usually big, you would need to level the ground and have a proper base to set one of these outdoor storage shed in your yard.